If you don't know us yet, Messeforum is a Finnish exhibition stand builder and a pioneer in implementing carbon neutral trade fair stands. We operate at trade fairs in various fields around the world.
Messeforum exists as an independent company since 2009, but our story begins long before that. Our founder and CEO Arto Varanki worked for a long time as an export manager in the electronics industry, often participating trade fairs around the world. From there, he went on to export consulting until he soon realized that trade fairs are the area of ​​export marketing where companies mostly need help.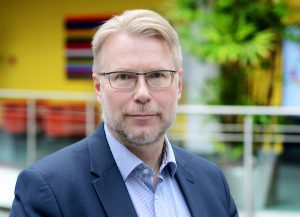 Arto Varanki, CEO of Messeforum
Messeforum is not just an ordinary exhibition stand builder, but much more. Our motto is The Best Exhibition Service. Accordingly, we take care of our customers' preparations for the exhibition stand as far as possible, so that customer's own resources remain in the preparation of the actual sales work. In addition to the design and construction of the exhibition stand, our customer receives carefree participation at the trade fair. We are still there on the first day of the exhibition to make sure everything goes as it should.
Our exhibition stands are tailored according to the brand and wishes of our customers. We know the world's exhibition centres and we know how to operate in them and what kind of booths can be built in them. With our expertise, we can bring added value and even savings to the trade fair costs for our customers.
Exhibition service from person to person
The whole Messeforum staff has strong language skills and solid experience in foreign trade, exhibitions, marketing, project management and customer service. Our extensive partner network ensures professional operations in different parts of the world.
Over the years, Messeforum has become known as an empathetic and reliable exhibition stand builder. Our values ​​include both humble service and pride in our own expertise. We want to take responsibility for the environment and human well-being. Combating climate change is  close to our hearts. In 2020, we were the first to launch a carbon neutral exhibition stand based on accurate emissions calculations, conscious emission reduction measures and offsetting. The exhibition and trade fair stands built by Messeforum are always certified carbon neutral stands.
We will tell you more about the carbon neutral exhibition stand in our next blog. You can also read more on our website. Contact us and enter with us to the interesting world of trade fairs.