Messeforum has been operating as an independent company since 2009. We are currently one of the leading builders of trade fair stands and exhibition services experts in Finland, trusted by more and more companies, also abroad.
So how did we grow to become a ground-breaking producer of exhibition services, offering customers a total partnership with a personal touch?
Export professional
We can't talk about Messeforum without mentioning our founder and owner Arto Varanki.
Arto is a steely professional in the world of exports. Before starting Messeforum, he spent years working as an export manager for the electronics company Teknoware Oy. During that period, Teknoware grew to become an international market leader in vehicle and safety lighting, and was recognised by receiving the President of Finland's Export Award.  
In working for the industry, Arto travelled the globe, meeting customers in their offices and at international trade fairs. He gained an in-depth insight into exhibitions, how they work and the challenges they bring, from the point of view of an exhibitor and a purchaser of exhibition stands.
In the 1990s, exports meant constant, challenging travel abroad. Online remote meetings and smart devices had not yet been invented and GPS navigation was only in its infancy. As a father of small children, Arto started to long for a more peaceful working routine without so much foreign travel. The solution was found when he bought a stake in the company Spokesman Oy, where he started running their Marketing business, focused on export marketing and consultancy.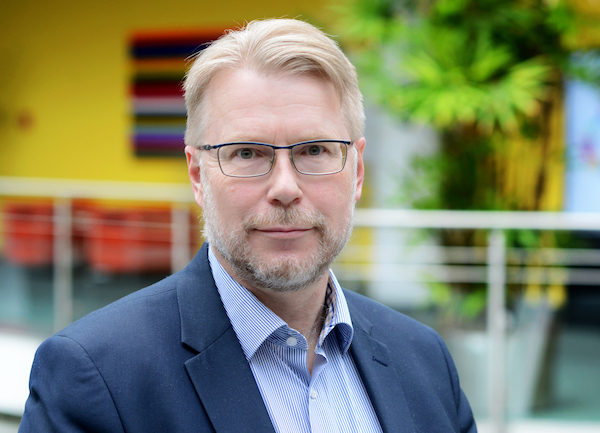 Export consultancy and exhibition services to businesses
"First we offered small-and-medium-sized businesses consultancy and export management services to help them start exporting and to succeed in the export market. Very soon, we realised that international trade fairs were the aspect where these companies needed the most support. In the end, we concentrated on managing their exhibition stands and trade fair projects for them," Arto explains.
From the very first, it was clear that this business was not an ordinary stand building business but something much broader. Throughout his career, Arto has embraced the idea of empathy as a success factor in business. He took this approach based on empathy and a self-effacing understanding of customers' needs into his burgeoning exhibition business.
The need for a holistic exhibition service gave rise to the idea to found Messeforum
In 2009, Arto bought Spokesman's exhibition business. Troughout his career he had amassed great practical experience in all the things that attending a trade fair demands. This understanding was crucial in building Messeforum's business concept.
Messeforum was the first stand builders to offer its customers total project management on top of designing and building their stands. This included e.g. shipping, catering, assistance on site, communications and above all a presence at the customer's side through every step of the project.
International fair expertise and one of Finland's leading exhibition stand builders
We make exhibition stands and booths with our expert teams around the world. All Messeforum's staff have excellent language skills, a background in various areas of international business and especially sound experience of fairs and exhibitions either from the viewpoint of a customer or a trade fair participation organizer. Our in-house team is supplemented by a broad network of partners around the world.
Messeforum's strong internationalization began in 2011 when the world's largest trade fair organizer owning its own exhibitions halls and operating worldwide, Messe Frankfurt, chose Messeforum as its official representative for Finland. Even before then, Arto had spent a long time representing Finland for NürnbergMesse.
This added a completely new dimension to Messeforum's services. Besides building stands, we were able to help our Finnish customers with all kinds of issues involved in their attendance at trade fairs around the world.
The 2010s was the period of Messeforum's strongest growth. We established our position and internationalized even more, also gaining foreign customers on the stand building business.
After the Covid years, we are once more a sound and flourishing business, once more working flat out to create stands and realize trade fair projects. Always looking onwards and upwards, we want to be a trailblazer in stand building, constantly updating and renewing and producing genuine added value for our customers. The aim of Messeforum's approach is always to ensure customer success at trade fairs.
Exhibition stands respecting sustainable development
Today, one of our most important values is responsibility and sustainable development.
"We are aware that no-one can cope in this world alone and that our every action has an impact on global wellbeing. No-one can succeed without thinking of others. Climate change is a serious problem affecting the whole world and we all need to engage in resolving it," says Arto.
Messeforum does its best in its own sector as a builder of stands and booths. The emissions of our carbon neutral stands are zero and we make sure that their carbon neutrality is genuine and proven. Our environmentally friendly stand sees us seeking to provide added value for our customers, that lasts long into the future, which we also see ourselves as being important.  
Read more about Messeforum as a trailblazer in stand building and in producing carbon neutral stands. 
Also see what our customers say about working with us in their own words.