This spring Messeforum was in Singapore with our client Food from Finland. Finnish food and beverage industry presented their products in the Finland pavilion at Food & Hotel Asia (FHA) which is the world's leading foodservice and hospitality event in Asia.
The long-term cooperation of Messeforum and Food from Finland received a valuable recognition at FHA. The trade fair organiser Informa Markets awarded the carbon neutral Finland pavilion provided by Messeforum with a Better Stands award along with the French pavilion. Both pavilions, participating companies and their respective stand contractors were recognized for having gone above and beyond in demonstrating their sustainability commitments during FHA.
Informa Markets is part of London based Informa PLC, a leading international events, digital services, and academic knowledge group. Informa Markets organizes trade shows worldwide and is the largest trade show organiser in Asia. FHA is one of Informa Markets' several food related trade shows in Asia.
Messeforum interviewed Ben Wielgus, Head of Sustainability of Informa about Informa's environmental policy an about the Better Stands award.
Please enjoy the conversation with Ben and don't hesitate to read more about sustainability at Informa on https://www.informa.com/sustainability/ . More information about Messeforum's carbon neutral exhibition stands is available on https://www.carbonneutralstand.eu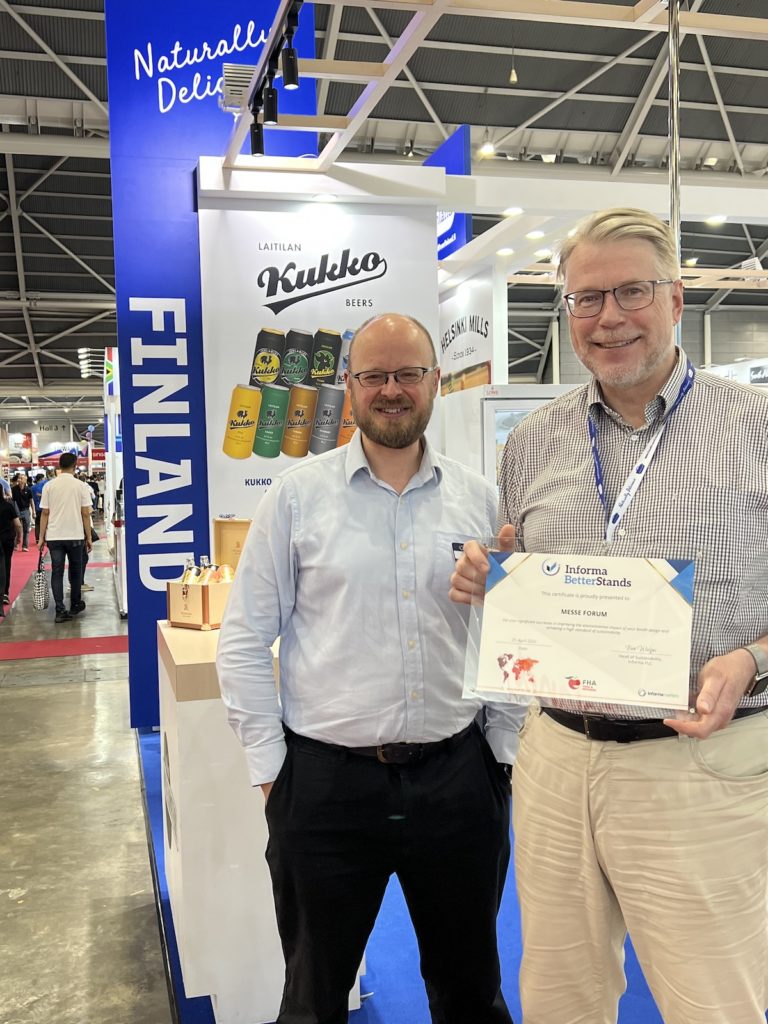 Ben, why is sustainability important to Informa Markets?
"Hopefully sustainability Is of increasing importance to everyone! But for us, we see strong business benefits from being sustainable – better products, better engagement, better innovation and even better margins in the long run. We know that 4 in every 5 attendees at trade shows tell us that they care that the event is run in an environmentally and socially responsible way. Many of them value the brand more highly if they do. As human beings, we absolutely want to meet in person – to connect, to learn, to trade, to solve – but we increasingly recognise that all those benefits come with environmental and social impacts and we want to ensure they are a net positive impact."
Informa Markets is approaching to become carbon neutral as a business and across the products by 2025 and becoming zero waste and net zero carbon business by 2030. What kind of challenges are there related into the event business in achieving these goals?
"These are perhaps two of the most challenging and high profile goals within our FasterForward sustainability programme. On carbon neutral, it's about partnering with our value chain to get our carbon footprint down as low and as fast as possible, and then compensating for any unavoidable emissions with high quality carbon offsets that are as reliable as they can be whilst providing social and environmental benefits from that Investment. Those events that have been certified as carbon neutral already have seen positive feedback on those efforts. Food from Finland's exhibition stand is a great example of how to do this well."
"On our zero waste target, that really comes down to collaborating across the whole events ecosystem to help exhibitors and contractors understand the impacts from single use disposable booths which each create tonnes of waste."
Is there anything you can talk about how you have tackled the challenges?
"We're working across the industry on a programme called Better Stands which recognises that reusable stands can have better quality, better safety, better sustainability and even better finances if we can all move in that direction. It's not about forcing exhibitors down to one solution but simply away from the most harmful and old fashioned approach of building exhibition stands out of poor quality wood and inappropriate practices."
What is the history of the Better Stands award? When, how and why was it created? Do you grant the award in all exhibitions organised by Informa Markets?
"The Better Stands award is new at FHA – Food and Beverage in Singapore this year. It builds on a history of recognising those exhibitors who go above and beyond on sustainability at several of our events. We saw that exhibitors were increasingly shifting to high quality reusable systems that help booths look unique and we wanted to hold them up as leaders in that space. Finland and Messeforum's commitment to zero waste and carbon neutral really stood out."
The Better Stands award is described as an initiative to transform the future of exhibitions by encouraging reusable structures, leading to better appearance, quality, safety, sustainability, time efficiency, and a better exhibitor experience. Why exactly these factors are important?
"Some estimates put disposable stands as being up to 80% of the global exhibition industry's waste sources. Organisers and venues don't pick those stands – It comes from our exhibitors – but we certainly have a responsibility to educate and encourage good practices. All of these benefits from Better Stands will help improve our events ecosystem and the public perception of events."
Who is the jury and what is the criteria for choosing the award winners?
"The jury was made up of four sustainability specialists from Europe and Asia, and they were looking for both pavilions and individual exhibitors who'd gone further than their peers in testing out new approaches to sustainable exhibiting whilst ensuring they have an attractive, unique and engaging booth design. This year's winners certainly managed that!"
What were the features bringing the award to Finland pavilion at FHA?
"It was definitely the commitment to carbon neutral stand construction – we've seen this for shows but never from individual exhibitors. This was a really strong commitment that the commitment to a zero waste booth also helped make cost effective."
How would you describe the role and importance of Messeforum's carbon neutral exhibition stand in the business of exhibition stand construction in general? Do individual acts like ours have an effect in the huge worldwide exhibition business?
"It's a great example of what can be done with the right commitment. Yes, it's one booth amongst many but it takes one grain of sand to start a cascade reaction if it's in the right place. Congratulations again for Messeforum and Food for Finland for such a great initiative."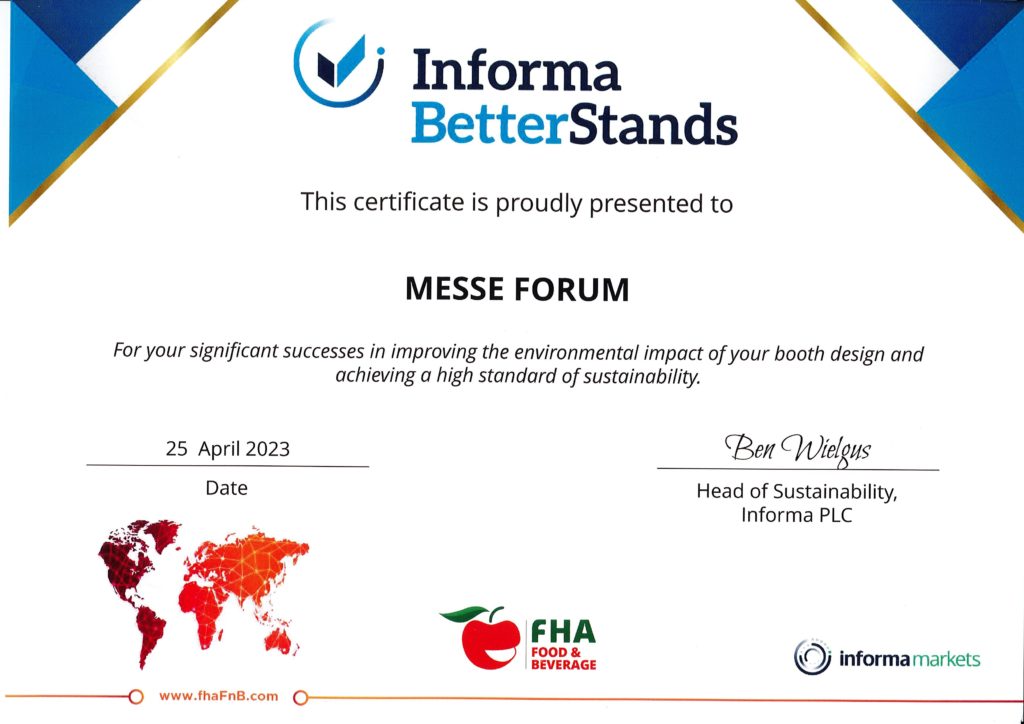 Sustainability at Messeforum
Sustainability is important to us at Messeforum in all our business as an international stand builder and exhibition representative. Our values are based on social and environmental responsability. Our product – exhibition stands – is carbon neutral, achieved both through our own design and material use and throug reliable, genuine and additional offsetting. We are committed to the ten principles of the UN Global Compact and to UN's sustainable Development Goals.
In cooperation with our partners we promote and encourage sustainable development and strive to find new even more sustainable solutions. We are a proud official representative in Finland of two important German exhibition organizers who are very advanced in promoting sustainable development in their operations. Please read more of the sustainability of Messe Frankfurt Exhibition GmbH and NürnbergMesse GmbH. We will also return to this subject in our future blogs.